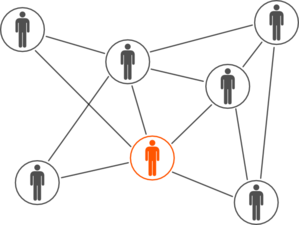 Everyone is talking about Networking ! Networking is a powerful tool which is all about making connections with people who you can then contact to get more information and advice when looking to make careers choices or find out about jobs or placements. Remember that quote "it is not what you know, but
who
you know". In reality we all network everyday because at its basic, network is about interacting with other people either face to face or via social media. It isn't something to be fearful of and detailed below are some hints and tips to get the most out of networking when looking for your placement position.
So firstly, what are some of the benefits of networking:
> You can build your knowledge levels from current business professionals.
> You can demonstrate your skills and initiative which will help build your confidence.
> You can sound out ideas with contacts in your network.
> You can learn about employment or work experience opportunities through word of mouth/ online contacts.
> You can build long term, mutually beneficial relationships.
So how can you build your network:
My recomendation would be to get involved in as many events, networking opportunities and societies as possible!
Speak to as many people as you can at these events and talk passionately about your skills and interests.
It may seem daunting but there are many occasions when you can demonstrate your interest and each time there is the prosepect that someone will take notice
!
In person at University run events.
The School of Management Year in Business placement team run a number of events over the term in which different businesses are invited in to present and talk informally to students. These provide a great opportunity for an informal and relaxed conversation, often over food and drink. Do make the most of these events to build up your contacts and find out information that may help you when applying for your placement position. Don't forget that employers have taken the trouble to come to Royal Holloway and are keen to talk to students too.
The Careers Service also run many events including Assessment centre training, Careers fairs and Alumni panels involving Alumni who come back to share their Career experiences. You can find out more about the Careers events from their website:
https://www.royalholloway.ac.uk/careers/events/eventlistings.aspx
.
Students could recently network with Alumni Helena Wilkin from PWC who came back to talk about her Workshadow experience with PWC.
How you can prepare for these events?
1 Research the companies coming to the event using their website / any other contacts you know before the event so that you can make a good impression when you meet them. Think about what you would like to find out from them.
2 Smile as you approach the Company representatives. It is good to prepare an introduction in advance. You will hear people reference an "elevator" speech which is the few points you would want to get across to the Chairman of the Company if you were to join him in the Lift going from the ground to the top floor of the building. In this speech you can introduce yourself briefly, and mention your academic/ professional interests and why you are attending the event. You can then ask some open ended questions to allow a conversation to develop and for you to demonstrate your interest in the Company and position.
Typical questions you can ask an employer:
> What do you look for when selecting candidates?
> Are there any particular types of experience or courses that would help me get into this area?
> Could you tell me how you got started in your careers?
> How can I make my application stand out?
> What training would I receive in your Company?
3.Take a copy of their email address so you can follow up after the event with a thank you and any further questions. This will demonstrate your committment and interest.
In person through contacts
It is possible that some students may already have good contacts in the business world and would like to make use of these when searching for a placement year position. If your contact works for an organisation that already offers placements you can usually find this out via the company website and then ask them if they can provide a reference or recommendation to support your application. If your contact works for an organisation that has not previously offered a placement year it is possible to start discussing it with them. If you want to self source you should also discuss it with the Year in Business Programme officer : provided the offer meets the requirements of the Year in Business programme then your networking could have paid off and you could have successfully achieved a placement position!
Your fellow students can also prove to be a good source of information. Many may already have gained some work experience or will have experience of applying for placement positions themselves. They can share their insights about different recruitment processes and the low down on different employers you may also be interested in.
Online via Networking sites such as Linkedin
Social media is a great networking tool! You may use Facebook, Twitter and Instagram as part of your daily life. Remember to take care what you post on social media as your settings can mean that postings are visible to prospective employers : many will look at your digital footprint when considering your application.
Following or "liking" organisations which interest you is a great way of keeping up to date with them and potentially learning about new job opportunities.
If you 're looking to network professionally look at Linkedin where you can include your educational background, work experience, skills and interests.
Linkedin was launched in 2003 and is now used by millions of users worldwide.
Interesting facts from Linkedin about their membership:
LinkedIn operates the world's largest professional network on the Internet with more than 400 million members in over 200 countries & territories.
There are over 19 million members in the UK
Professionals are signing up to join LinkedIn at a rate of more than two new members per second.
Worldwide there are over 39 million students and recent college graduates on LinkedIn. They are LinkedIn's fastest-growing demographic.
Linkedin have a useful guide to help you start off :
http://students.linkedin.com/uk
There is also a "Find Alumni" tool which can be used to put you in touch with Alumni who studied a similar course and are now working in the area you would like to secure a placement. Search on line
http://blog.linkedin.com/2013/01/30/start-mapping-your-career-with-linkedin-alumni/
Tips to consider when setting up your Linkedin profile
1. Include a profile image: ideally this should be a professional headshot.
2. Complete your profile including name, location, education, skills and work experience. Have a look at how others have described themselves to get an idea of what works well.
3. Add connections: begin by searching for people you already know such as lecturers, classmates, career advisors, family friends and employers you have met at events.
4. Ask people you have worked with or studied under to give you a recommendation or endorsement.
5. Become an active member of groups, share content and engage. By joining interest groups you can gain useful information about prospective employers and see job related postings.
6. Post updates to your profile - it is a good way of keeping your profile "alive" and make sure you take opportunities to renew your contacts as you continue through your degree at Royal Holloway.
Remember networking can be great fun and very beneficial in your search for a placement.
Thank you to Louise Ogle from the University of London Careers Group for many of the above insights on networking
.